Jaeger-LeCoultre Navigator's Mark 11 Wristwatch Tracking Page
"The wrist watch, Mk. 11 (Ref. No. 6B/346), is a highly accurate time-piece, suitable for astro navigation purposes." Mark 11 Mark XI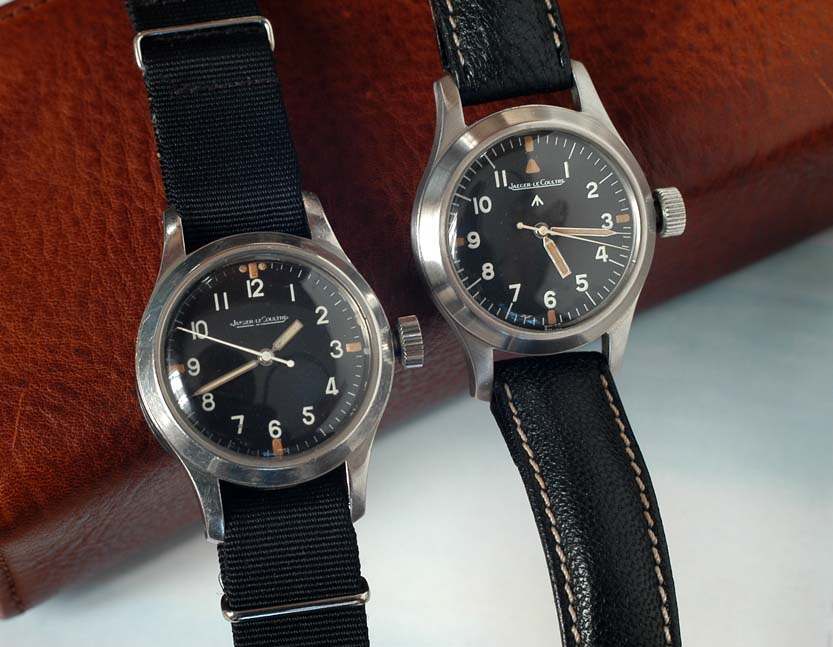 (Courtesy of Claudio)

(Courtesy of Hans)
Updates
October 15, 2013 - Added 2605/48 and 3615/48
July 31, 2013 - Updated 3510/48
December 7, 2012 - Updated 3020/48
November 16, 2012 - Added 2118/48, 2777/48, 3141/48
May 2, 2012 - Added 2264/48
April 5, 2012 - Added 402/53 and 508/53
March 25, 2012 - Added 2790/48 and 15/53
April 4, 2011 - Added 2249/48
May 9, 2009 - Added 2533/48, 4053/48 and G.6B 308
January 17, 2009 - Added G.6B 407 and 2909/48 and 3485/48
October 1, 2008 - Added 3444/48 saved from the sock drawer!
September 28, 2008 - Added 589/53 with a fabulous Mod-Redial. Very very rare, only 2nd I've ever seen and way cool original find
September 20,2008 - Added 2594/48, spaces for the spotted 4036/48, 565/53 and 3604/48. Going to add a neat catalog of military surplus from David B. shortly as soon as I get it scanned. Thanks David!
April 19. 2008 - It makes me extremely sad that caseback 3757/48 was switched with 2294/48. I have no idea why the dealer would have done it. I personally use to own the White 12 3757/48 and restored it from the bin and had to part when I was in a pinch. Its robbing history and messing with the empirical data to just switch it randomly for no reason. I flagged it and was summarily ignored. I'm sorry I extremely dislike dealers who do this! On a happier note, a nice White 12 emerged in 3510/48.
April 2, 2008 - Added 3696/48
Feb 28, 2008 - Added pics of 3352/48, 3652/48, 2844/48 and 2525/48
August 27, 2007 - Added 284/53
June 22, 2007 - Added a great link to some of the best JLC Mark 11 Pics at the bottom, thanks SteveG!, added 3530/48 and 3206/48
February 3, 2007 - Added 7 new ones! - G.6B 299, 2260/48, 2217/48, 2439/48, 2636/48, 2936/48, 3316/48
November 24, 2006 - Added 3194/48 and 3500/48
September 30, 2006 - Added 3411/48 and 576/53
April 18, 2006 - Added 3568/48 and 241/53
April 13, 2006 - Added 499/53, 3781/48, 237/53
January 22, 2006 - Added a new "Original Find Stories" Section for everyone to enjoy
January 22, 2006 - Added a very nice all original White 12 RAF 2693/48, 526/53 and 3530/48.
December 30, 2005 - Added 259/53 and 104/53
December 13, 2005 - Added 113/53 and 200/53 in pieces but rare circle-T on dial
November 28, 2005 - Added 77/53
October 10, 2005 - Added pics of 3806/48 and 3287/48
July 31, 2005 - Added a very nice 2419/48, rare White 12 RAF 2235/48 in untouched condition which I love and G.6B 338
May 9, 2005 - Added pics of 4046/48 a nice White 12! Over 100 watches found!!
January 20, 2005 - Added pics of 3893/48 in a nice unrestored condition; interesting strap the same as 2698/48 that was personalized by its RAF owner
January 16/18,2005 - Added pics 2850/48 found on an Island near an ex-RAAF base! Added pics 3/4 of 2868/48 with a proper NOS restored to it
January 5, 2005 - Added pics of 2646/48 restored to a vintage bonklip, fixed the bad link
December 12,2004 - Added pics of a restored 3953/48
December 3, 2004 - Added 230/53 (last one is a nice side by side with an IWC Mark 11); updated RAAF section
December 2, 2004 - Added 2868/48 and 2655/48; added some pics in the "Case" section, draft of Strap & RAAF Mod Sections
November 28, 2004 - Added caseback/side views of the Mark 11 and further text on case, numbering, and straps
November 21, 2004 - Added 494/53 & wrist shot of 3002/48, added great new photography thanks to Claudio M. and Franco, a collector in England
November 16, 2004 - Added 3953/48 a White 12!
November 7, 2004 - Added 2415/48 and 397/53, updated pics of a restored 3176/48
August 22, 2004 - Added Draft on Variations; more pics of a restored 3859/48
August 15, 2004 - Added 3647/48
August 14, 2004 - Added pics of 264/53
August 9, 2004 - Added pics of 423/53 and 588/53
July 26,2004 - Added 264/53, restoration write-up & Geophysic pics
July 17, 2004 - Added 2723/48
July 16, 2004 - Added 4031/48
July 13, 2004 - Added first draft of movement text
July 3, 2004 - Added 3859/48
June 23, 2004 - Added first draft of text
June 21, 2004 - Added 434/53 and more links
June 19, 2004 - Added 410; added pics for 463/53
June 12, 2004 - Added 2134/48; added serial for 140/53; and added serial for 463/53 the last 488/Sbr ever made!
June 5, 2004 - Added wording for the movement description
May 1, 2004 - Added pics of 3920/48
April 23, 2004 - Updated serial on 169/53; added 463/53
April 18, 2004 - Updated serial on 2691/48; added serial on 3162/48, 274 &408; added 139/53 & 423/53
April 16, 2004 - Corrected Links, Added pics for 6B 2570/48, G.6B 274, G.6B 408 and G6B 58/53, Added serial for 2257/48
April 8, 2004 - Tracking page created
Introduction
This Tracking Page was created as an attempt to capture empirical information of the Jaeger-LeCoultre (JLC) Navigator's Mark 11 (Mark XI) Wristwatch, considered by many one of the finest military watches ever produced, for collectors to enjoy and observe this elegant military watch.
The legendary Mark 11 is the original pilot's watch made to the strict 6B/346 specification by the British Military of Defense (MoD) and issued to navigators in the RAF and later in the Australian RAAF. Produced by both Jaeger-LeCoultre (JLC) and International Watch Company (IWC) only, both watches appear very similar with slight differences as can be seen in two great RAF examples below: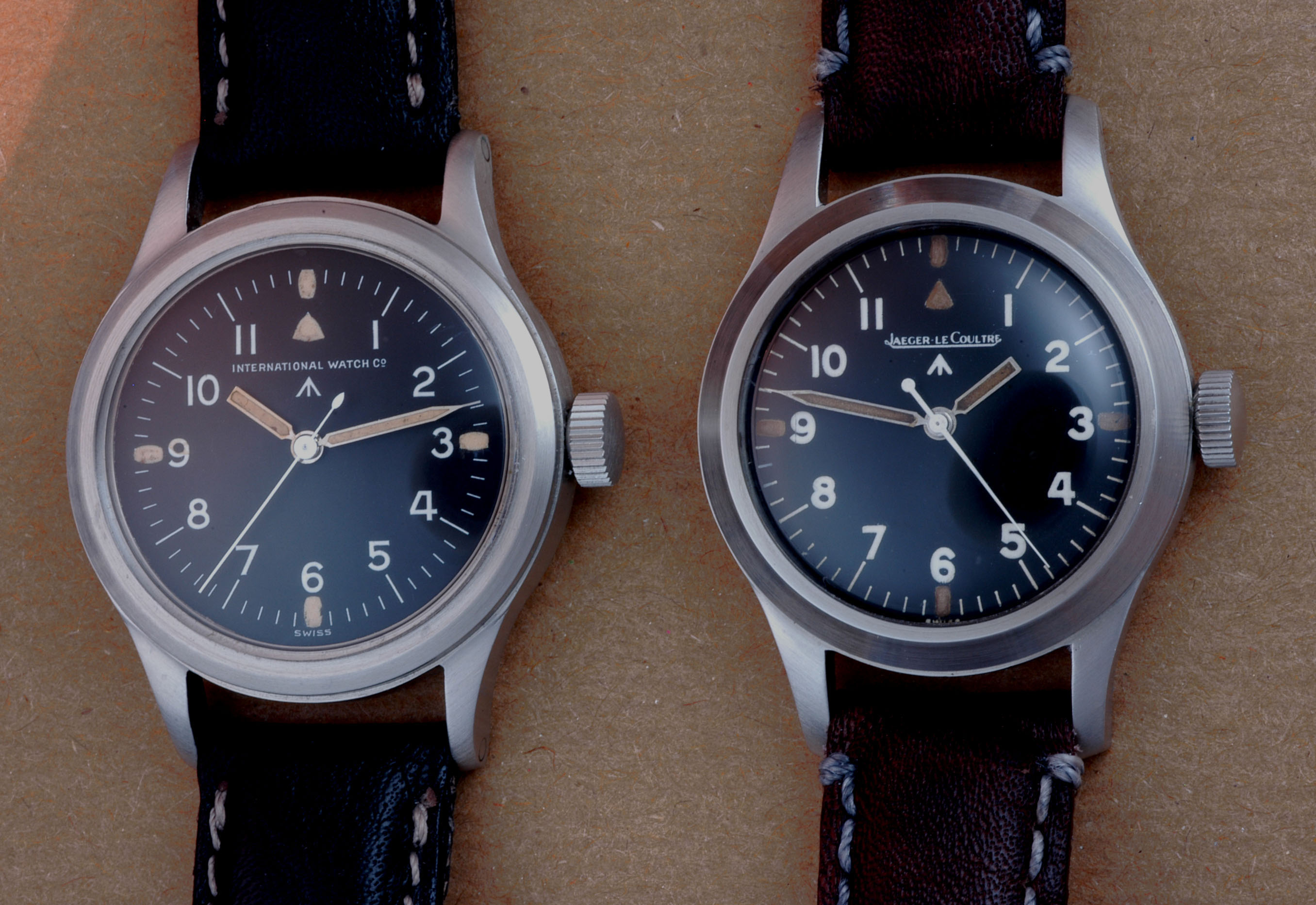 (Courtesy of Franco)
While I would love to track both manufacturer's known examples, this page focuses on the JLC Mark 11. There's a mystique about the JLC Mark 11 that's unmistakable, housed with a true chronomètre-grade movement.
Background
Air Ministry and the RAF:
"The Air Ministry was created in January 1918 to oversee the birth in April 1918 of the Royal Air Force from the amalgamation of the Royal Flying Corps and the Royal Naval Air Service. The organization was broadly similar to that of the Admiralty and the War Office, with a Secretary of State chairing the Air Council and the senior RAF member holding the post of Chief of the Air Staff. In 1919 the Air Ministry moved to Adastral House, then in Kingsway. In 1952 the central part of the Air Ministry moved to the new building in Whitehall Gardens that was later to become the Main Building of the Ministry of Defence."1

The British MOD:
"That the MOD can seem complex and confusing is partly attributable to the variety of tasks we undertake, but another reason lies in the Department's origins. Today's MOD is a fusion of old ministries: from 1946 to 1964 there were five Departments of State doing what the unified MOD does now: the Admiralty, the War Office, the Air Ministry, the Ministry of Aviation and the Ministry of Defence itself. In 1964 the first three and the MOD were amalgamated, and the defence functions of the Ministry of Aviation Supply (as it had by then become) were absorbed in 1971, when the MOD took over responsibility for supplying military aircraft and guided weapons."1

As noted above, the Royal Air Force (RAF) fell under the Air Ministry (AM). I didn't bother to find out how far the AM survived into the 50's, "but you will certainly notice, that some WW2 watches are either marked AM 6B etc., or simply have the Arrow mark - Never both (?) At any rate, you will of course not see the AM mark on any of the IWC, or other 1950's genre of RAF pilot's watches (except for the 1956 'rebuild' series)."2

Goldsmiths & Silversmiths Co., Ltd:
This watch model was especially designed for the firm Goldsmiths & Silversmiths Co., Ltd in London. Goldsmiths & Silversmiths Co., Ltd (G&S) was a High Street jeweler with Royal Appointments. G&S did have premises in Regent Street, London W1. (In the 1950's or early 60's, G&S became Garrards.) G&S catered for the public as well as Royalty and Government sectors, and did supply the AM with clocks and watches, and likewise the RAF got hold of these through the AM.2

What the RAF or AM wanted, they would obtain from G&S. G&S was also the service center for RAF watches. In its heyday, G&S supplied a prolific number of watches to the RAF – including the Mark 11 and others like the Omega 53. Please note the following picture from the JLC archive that mentions G&S. While G&S would have been the catalyst for the watches acceptance, I'm a little surprised why a British jeweler would supply the Australian Department of Air? Why wouldn't JLC or IWC ship their watches directly to Australia via their own agents?
The Mark 11 Specification
Sometime in 1946 or 1947 the RAF most likely decided it wanted a new pilot's watch, issued its specifications, and sent it to G&S to pursue. G&S almost certainly then approached all their major contributors, evaluation contracts would have been initially issued to IWC and JLC, and G&S furnished the RAF with watches that met the requirement. What the original document specified probably would have resembled the description from the A.P.112G-0815-1 on the Mark 11. The full series of tests applicable to this watch is laid down in Spec. No. G.943.
Case / Engravings
Mark 11s are housed in a stainless steel case (marked "Staybrite on JLCs) with a screwed back. As James Dowling pointed out, "the Mark 11 can make a claim to be the first wristwatches in the world designed from scratch to be anti magnetic. Both JLC and IWC feature a very thick iron dial, which is cup shaped and so covers the side of the movement; the movement iron cover is similarly shaped and rises to meet the dial sides. This means that the movement is completely encased in a non magnetic "Faraday cage", thereby providing a high degree of anti magnetic shielding."
The Air Publication, while not the original spec, was probably close to what the 1947/48 version had said: "An inner case of soft iron completely encloses the movement, and thus forms a continuous shield to screen the mechanism against magnetic interference. The front plate of the inner case, which is integral with the cylindrical portion forms the dial, and the soft iron back is expanded to make a sealed joint when the back of the outer case is screwed on. The screening effect is sufficient to ensure that the performance of the watch will remain entirely unaffected by the proximity of a strong magnetic field."
Between the IWC and JLC, the case designs are different. The JLC is pleasingly odd, more bulbous or globular, with oddly long lugs; while the IWC is flatter trying to maximize dial exposure and more edgy. Both are very elegant in appearance. A comparison of their cases is shown in the pictures below:
JLC
dia 35.3 mm, lug-to-lug 43.5 mm, height (w/crystal) 12.6 mm

IWC
dia XX mm, lug-to-lug XX mm, height (w/crystal) XX mm

IWC JLC

(Courtesy of Franco)
An interesting not on the IWC cases. Elias, a collector form the US, was intrigued by his Mark 11 case which had no markings on the outside but is of the military design. Despite not being marked with 6B/346 marks on the outside, IWC confirmed it was part of 70 pieces with movement from 1384231 to 1384300 that were sold in November 1958 to "Garrard London", which was the supplier of the British military as previously described. Furthermore, a noted a difference between civilian and military IWC Mark 11 cases can be noted -- the military case will be marked "JWC" and have no serial number.
| | |
| --- | --- |
| | |
| IWC Military Caseback | IWC Civilian Caseback |
Discussed on MWR, contracted British military watches usually do not have logos on the crown. The JLC Mark XI has been spotted with both and probably were both supplied by JLC. My unsigned crown has a diameter: 7 mm and height: 3 mm. Before the Cellar kindly shared this reference, Ilja noticed a difference between the RAF and RAAFs – "The RAF version is a bit different to the RAAF version. Some were later "converted" to RAAF standard... In the original RAF version, the O-ring sealing is inside the crown, the RAAF watches have the O-ring sealing fitted at the winding tube. The RAAF winding situation is identical to the Geophysic."
The Mark 11 reference number of 6B/346 signifies the following: "6B" means "Flying Equipment" (which in itself is not particular to watches), the combination of "6B/346" was the Mark 11's specification or designation. The RAAF used a precursor "G" in their numbering system for their issued equipment. As mentioned earlier, IWC and JLC are the only two that are Mark 11s (6B/346), but they are a part of a broader genre of watches issued to aircrew, which were there before and after the Mark 11 (e.g. 6B/159, 6B/234, or 6B/542). The case back has the broad arrow on the outside along with other military markings besides the 6B/346, G6B/346 or G.6B/346. The issue numbers for the RAF are XXXX/48 ("48" is the year 1948) and the issue numbers for the RAAF are XXX/53 ("53" is the year 1953). I don't know what "B/97" on the back of my RAF means, but its not on all RAFs and to my knowledge never on RAAFs. Some have speculated that it signifies that it is a decommission mark of some kind with the watches being released to the public in 1997…?
Movement
"The watch movement, in a sense, does not tell time but merely permits its mechanism to be released at a determined rate of speed." Henry Fried
What is it about mechanical watches that saved the industry from the brink of bankruptcy with the quartz? In light of a maintenance-free G-Shock what's so great about a strip of steel wound around an axle and connected to a large gear? Compound this question with the fact that military watches are Spartan in design, meant as a tool for soldiers, navigators, etc. Its not logical, but a passion of history, minimalist design and example of pure watchmaking skill that drives most collectors. The JLC Mark 11 is the quintessential example.
The true beauty of the JLC Mark 11 lies hidden within only to be heard in its heartbeat. In fact, a collector can only truly experience its beauty when physically opening the back and looking at the JLC Caliber 488/SBr movement. Pictures really do not do it justice, it's a work of art.
Franco, a collector in England, provided a good description, "The Caliber 488/Sbr is one of a handful of chronometer-grade manual wind watches from the 40's and 50's. The others being the Omega 30T2SCRG and 30t2Rg, the Zenith cal. 135, the Peseux cal. 260M, and perhaps the IWC cal. 89 (this last was not a chronometer, but performed as a chronometer when specially regulated and tested)."
"What all these have in common is chronometer grade parts (particularly the balance, regulator, train wheels), very large balance wheel recess (nearly 1/2 of the movement diameter) nicely finished bridges, and uncommonly good performance. In the times of beats below 20,000, a large balance was thought to be good for maintaining isochronism."
Note the larger balance wheel in the JLC and the beauty of both the JLC and IWC movements finished in Geneva Stripes. The MoD Spec called for both watches to be within +/- 4 seconds. Particular features of the watch are highlighted below.
| | | |
| --- | --- | --- |
| Manufacturer: | Jaeger-LeCoultre | IWC(1) |
| Caliber: | 488/Sbr (S= Stop, br= Breguet) | 89 |
| Picture: | | |
| Hack Mechanism: | Caliber with hack device and center seconds | Caliber with hack device and center seconds, some early caliber versions may not have hacked. |
| Production Run: | 1948-1953 | 1946-1980s? |
| Internal Reference No.: | E161 | - |
| Production Number: | 2,950 | 223,800(1) |
| Movement diameter: | 28.80 mm or 12½ Paris Lignes | 26.50 mm or 11¾ Paris Lignes |
| Movement height : | 5.00 mm | 4.35 mm |
| No. of functional jewels: | 16-jewel design | 16 / 17-jewel design |
| Cycles (beats) per hour: | 18,000 | 18,000 |
| Mainspring Dimensions: | Length 420 mm, width 1.28 mm, thickness 0.1275 mm | - |
| Winding stem: | 1.20mm (diameter of threading) | - |
| Bridges: | Single bridge design for the motion train | multi-bridge design |
| Finish: | Rhodium brass finished with Geneva Stripes (Côtes de Genève) | Rhodium brass finished with Geneva Stripes (Côtes de Genève) |
| Markings: | "fab suisse" & "swiss" on bridge with a Broad Arrow, movement serial (typically 91x,xxx) found next to the stop lever operation pin for RAAF 53 variants; "swiss", Broad Arrow and movement serial (typically 59x,xxx) on the bridge for RAF 48 variants | There were 7,650 Cal. 89 Mark 11s produced between 1947 (first placed into service in 1948) and 1952. All of these had a broadarrow on the bridge. After 1952, broadarrows were no longer placed on the bride for military IWC Mark 11s |
| Center Seconds: | Indirect drive sweep seconds feature | Indirect drive sweep seconds feature |
| Shock Protection: | No | Yes |
| Production Sheets: | | |
(1) All technical data on the cal. 89 courtesy of Michael Friedberg and IWC - provided on the www.iwc.ch forum on 4/1/03.
While both movements are particularly fine and beautiful, there's a mystique and beauty about the JLC Caliber 488/Sbr that's unmistakable. Produced in a very low production run for a short period of time, its unique design went on to morph into perhaps the finest vintage handwind Chronometre JLC produced – the 1958 JLC Chronomètre Geophysique (or Geophysic). Considered its flagship watch from the 1950s, this special Chronmetre was made in commemoration of the Geophysical Year in 1958 and possibly JLC's 125th anniversary. Some similarities can be seen with its JLC Caliber P478BWSbr (17 jewels), but along with several notable differences – including shock protection, swans neck fine regulation, and adjustment to 5 positions & temps. The Geophysic below is an ultra-rare pink gold variant, one of 25 made!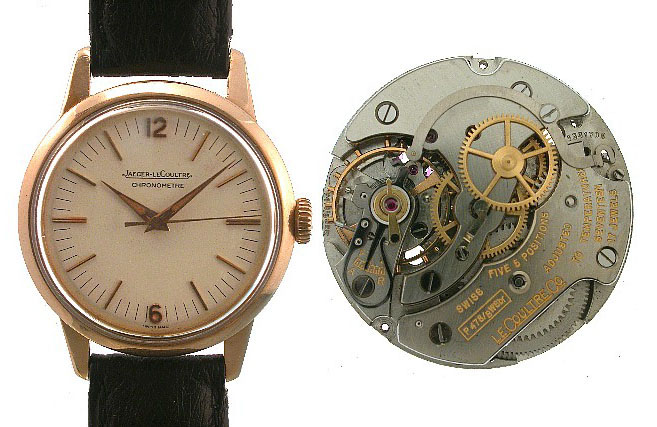 JLC in the 1950s also provided ebauches to Vacheron & Constantin and used in their own flagship watch, the Chronometre Royale. With a different bridge design and more jewels, our by-now familiar stop lever appears in VC's Cal. P1007/BS (small second) with 18 jewels and Cal. P1008/BS (SC) with 19 jewels. Like the Geophysic, the VC is a higher-grade movement with a swan-neck precision regulator, parachoc shock protection, a separate balance cock and superb VC finishing.
The obvious characteristic in all of these calibers is the unique stop lever. So unique that some (wrongly) think the designers forgot about it or was an afterthought. That misses entirely a neat and moreover elegant feature of the caliber, as this little stoplever employs a tiny loop to capture the balance wheel.
Production Numbers
Official JLC Mark 11 production figures was researched and discovered by Zaf of www.classicwatch.com, who is currently writing a book on Jaeger-LeCoultre and was kind enough to share the data. Here is the original Production Sheet! I summarized the information in the table below:
Date
Batch
Serial From / To
12/4/48
500
590,466
590,965
12/16/48
500
590,966
591,465
1/24/49
500
594,466
594,965
2/10/49
100
598,466
598,565
2/10/49
500
594,966
595,465
9/17/49
250
640,604
640,853
2/11/53
600
912,425
913,024
Total
2,950
Variations
Dial Variations
"The dial is of soft iron with a matt black finish, and is marked with white Arabic numerals from 1 to 12. The minute divisions are marked in white, with the exception of the four cardinal graduations, which are luminized."

1st Generation
"White 12" (rare)
2nd Generation
"Broadarrow"
2nd Generation
"Broadarrow" with Circle-T added on later (very rare)
3rd Generation
"RAAF" or
"Flat 3"
4th Generation
"RAAF" "Mod Redial"
circa 1956 (very rare)
Caseback Military Marking Variants

RAF
6B/346
RAF
6B/346
B/97
RAAF
G.6B/346
RAAF
G6B/346
Hand Variants
"The non-magnetic hour and minute hands are luminized and the centre seconds and is of bright non-magnetic metal."

RAF "Square Hour"
RAAF "Square Hour"
RAAF Modifications
The RAAF had a few modifications done to the JLC Mark 11s. While some were notice empirically, Cellar, a watch collector in Australia, did most of the digging to come up with an invaluable RAAF Watch Site linked below and culminated in his excellent article here: RAAF Mark 11 Research. Here is a summary of the changes more detail is provided by the Cellar:
1. Spring Bars: RAF pieces have fixed lugs while the RAAF were supplied with spring bars. This has been arrived at empirically because much more RAAF watches appear without fixed bars than vice versa. Interestingly enough, some RAAFs seem to have removed fixed bars under closer loupe inspection while others look like being manufacture without fixed bars, just the drilled holes.
2. Flat Crystal/luminized sweep seconds hand: In 1954, the RAAF or the Dept of Air luminized the sweep second hand a fitted a "new acrylic crystal with a square step" to "enable the Mark XI Watch-Wrist Navigator's to be read more easily" and were "purchased locally and supplied to No. 1 Stores Depot by Air Force Head-Quarters" Like most Mark 11 modifications including dials, changes like this were done when the MArk 11s came in from the field for servicing. Note from the tracking page, while many RAAFs have surface with this square-step crystal so far only one has been spotted with this RAAF-mod luminized sweep seconds hand.
3. Crown/gasket location: In 1959, the RAAF performed a "modification to improve the pendant sealing on Mk II Navigation Watches. The modification involves the fittings of a new type winding button and pendant…" Before the Cellar kindly shared this reference, Ilja noticed a difference between the RAF and RAAFs – the RAF version is a bit different to the RAAF version. Some were later "converted" to RAAF standard... In the original RAF version, the O-ring sealing is inside the crown, while the RAAF watches have the O-ring sealing fitted at the winding tube. The RAAF winding situation is identical to the Geophysic.

Straps
An interesting RAF had a rare piece of provenance in a bracelet, which the pilot apparently had put on, with his name and RAF markings:

Craig was kind enough to look in his copy of the stores book (the RAF internal parts book). The edition in 1955 showed only an optional nylon strap as a RAF available spare for the Mark 11. It was then amended to show both the nylon strap and the Bonklip bracelet. "It is possible that the strap was listed as an option for the watch as per its original description. Latter it was realized that a replacement Bonklip was needed as well. So an amendment was issued to cover this." 3

Craig also provided some further interesting information in regards to the Mark XI strap. "The Bonklip was A class and the strap was C class. This means that the Bonklip was accountable and the strap not. Most likely only a watch-servicing unit could order the Bonklip but the user could order a new strap. Because of this the Bonklip did not appear earlier because the servicing unit would have had it own parts books etc to order from. You would need to have a look at unit equipment schedules to see what they were entitled to hold to answer that question. Interestingly this watch has been removed from the stores book by 1966. This suggests that all watches were phased out by then?"

Restoration
As these watches are over 50 years old, restoration is sometimes a way to fully bring back their beauty. A good rule of thumb would be to clean the movement every 3 years and definitely if you purchase one without knowing when it was last serviced. In terms of the case, often it can become polished especially on the lugs from years of rubbing. If its an untouched discovery, dirt also can accumulate in the crown etc. The original finish on the JLC (and IWC) Mark 11s was a light satin finish. This would include the back, where the satin finish originally would have been vertical. I came across the JLC "White 12" Mark 11 below in need of such a case restoration. www.classicwatch.com brought it back to its former glory with a light satin finish how the original would have looked. Its hard to pick up in pictures, but it almost has a titanium type of look

Also commonly done in restoration is removing the hazardous radium luminescent. There's wabi purist points of view on whether to leave the original lume alone or not. Collectors often go either routes and nowadays lume can be aged to match the appropriate aged-radium color (as shown above).
Original Find Stories
I found this fun to read and a rare thing. Proud owners finding their JLCs after the MoD or RAAF unceremoniously sent them to mil surplus or in unique places around the world. This was the golden age of watch collecting with those times long gone, but maybe some are still lurking in those flea markets!. Enjoy.
Proud RAF Owner: "Just a brief history from when I acquired it, I bought it in 1965 at a place called Scientific & Technical, Tottenham Court Road, London. after it was advertised in a WD surplus mag. They had about 100 to sell, each at £15 Sterling, which was a snip when you consider that at the time a Omega Seamaster chronometer would have cost you ten times as much! It has just had its latest clean and oil and maintains an accuracy of + 6-8 secs per week, which is'nt bad for a piece of clockwork 57 years old. Hope it qualifies for addition to your register."
Proud RAAF Owner: "I have had a Mark XI for almost 30 years and never knew its significance. I bought it from a disposal store in Sydney because my friend saw the small advert in the paper, advertising the watches among other things, and said Jaeger leCoultre was a good brand. I thought the fact that it was ex-RAAF devalued it. He and I both bought one. When I bought it the owner of the store said that when he got a batch of watches like these he sent them to a bloke in Perth to service them. This year, he said, instead of payment the bloke only wanted one of the Jaeger leCoultre watches for his labour. He said it was the best movement he had ever come across. A few years later I got it serviced and the man charged $60. I said that it was more than I paid for the watch. The man laughed and said 'you know this watch is a jewel.' I have treasured it ever since and only wear it to dress-up functions a few times a year."
Proud RAF Owner:
"I bought the watch at a local flea market…I thought it is just an ordinary military watch (the reason I bought it coz I do not have a JLC watch in my vintage collection). The watch mechanism looks extraordinary so I decided to find more about it, until I found the link to your webpage.! Indeed I was flabbergasted to find out such elaborate history on my new acquisition. I bought it in Penang Island (which was hit by Tsunami but not as severe as Acheh). Royal Australian Airforce used to have a base in Penang, and we Malaysian regain independence from the British Empire in 1957. So I guess that's how the watch end-up in Penang."
Pricing
Best source on the net is here: http://www.watch-prices.com/
Tracking Table
No.
Pics
Type
Case
Movement
Dial
Hands
Home
Comments
Fixed
Number
B/97
Cal. 488/Sbr
Characteristic
Broadarrow
Bars
Serial #
Date
1
1
1
2
3
4
RAF
No
6B / 346
2112 / 48
Yes
912583
2/11/53
Flat 3
No
Flat hour
USA
2
2
1
2
3
4
5
RAF
No
6B / 346
2118 / 48
Yes
590491
12/4/48
MoD
Yes
Flat hour
Belgium
3
3
1
2
RAF
Yes
6B / 346
2134 / 48
590911
12/4/48
MoD
Yes
Pointed Hour
4
4
1
2
RAF
Yes
6B / 346
2145 / 48
Yes
-
MoD
Yes
Incorrect
5
5
1
2
3
4
5
RAF
Yes
6B / 346
2152 / 48
No
591013?
12/16/48
MoD
Yes
Cathedral
6
6
RAF
Yes
6B / 346
2193 / 48
590935
12/4/48
MoD
Cathedral
7
7
1
2
3
RAF
Yes
6B / 346
2208 / 48
No
590713?
12/4/48
MoD
Yes
Incorrect
UK
8
8
1
RAF
Yes
6B / 346
2217 / 48

No

-
MoD
Yes
Cathedral
9
9
1
2
3
4
RAF
Yes
6B / 346
2231 / 48
Yes
594746
1/24/49
MoD
Yes
Pointed Hour
10
10
1
2
3
4
5
6
7
8
RAF
Yes
6B / 346
2235 / 48
No
591297
12/16/48
White 12
No
Pointed Hour
UK
11
11
1
2
3
4
5
RAF
No
6B / 346
2249 / 48
Yes
594889?
1/24/49
MoD
Yes
Pointed Hour
UK
12
12
1
2
3
4
5
6
7
8
RAF
No
6B / 346
2257 / 48
No
912926
2/11/53
MoD
Yes
Pointed Hour
Singapore
13
13
1
2
3
4
5
6
7
8
RAF
Yes
6B / 346
2260 / 48
No
590XXX
12/4/48
MoD
Yes
Flat hour
14
14
1
2
3
RAF
Yes
6B / 346
2264 /48

No

590924
12/4/48
White 12
Yes
Flat hour
France
15
15
RAF
Yes
6B / 346
2276 / 48
-
MoD
Cathedral
16
16
1
2
3
4
5
6
7
8
RAF
Yes
6B / 346
2294 / 48
No
591281
12/16/48
MoD
Yes
Pointed Hour
UK
Dealer switched casebacks with 3757
17
17
1
2
3
4
RAF
Yes
6B / 346
2344 / 48
No
590594
12/4/48
MoD
Yes
Cathedral
Germany
Square hour hands currently being installed
18
18
RAF
Yes
6B / 346
2349 / 48
594782
1/24/49
MoD
Yes
Flat hour
19
19
1
2
3
4
RAF
Yes
6B / 346
2415 / 48
No
590613
12/4/48
MoD
Yes
Flat hour
20
20
1
2
3
RAF
Yes
6B / 346
2419 / 48
Yes
594991
2/10/49
MoD
Yes
Flat hour
UK
21
21
1
RAF
Yes
6B / 346
2439 / 48

No

-
MoD
Yes
Pointed Hour
22
22
1
2
3
4
5
RAF
Yes
6B / 346
2452 / 48
Yes
-
Flat 3
No
Flat hour
USA
23
23
1
2
3
4
5
RAF
Yes
6B / 346
2525 / 48

No

591312
12/16/48
MoD
Yes
Pointed Hour
Italy
24
24
1
2
3
4
5
6
7
RAF
Yes
6B / 346
2533 / 48
No
598643
2/10/49
Flat 3
No
Cathedral
UK
25
25
RAF
Yes
6B / 346
2568 / 48
590991?
12/16/48
MoD
Arrow
26
26
1
2
3
RAF
Yes
6B / 346
2570 / 48
No
590994?
12/16/48
MoD
Yes
Incorrect
Sold off German eBay
27
27
1
2
3
RAF
Yes
6B / 346
2585 / 48
Yes
-
MoD
Yes
Flat hour
Australia
Still on a Bonklip
28
28
1
2
RAF
Yes
6B / 346
2594 / 48
No
590999
12/16/48
MoD
Yes
Cathedral
UK
29
29
1
2
3
4
RAF
Yes
6B / 346
2605 / 48
No
590541
12/4/48
MoD
Yes
Cathedral
Germany
30
30
1
2
3
4
RAF
Yes
6B / 346
2636 / 48
No
590686
12/4/48
MoD
Yes
Flat hour
31
31
1
2
3
4
RAF
Yes
6B / 346
2646 / 48
No
594749
1/24/49
MoD
Yes
Cathedral
32
32
1
2
3
4
RAF
Yes
6B / 346
2655 / 48
Yes
590735
12/4/48
White 12
No
Pointed Hour
33
33
1
2
3
4
RAF
Yes
6B / 346
2691 / 48
No
591014
12/16/48
MoD
Yes
Pointed Hour
34
34
1
2
3
4
5
6
RAF
Yes
6B / 346
2693 / 48
No
590592
12/4/48
White 12
No
Pointed Hour
UK
35
35
1
2
3
4
5
RAF
Yes
6B / 346
2698 / 48
No
59xxxx?
-
MoD
Yes
Cathedral
USA
Had unusual RAF-marked bracelet band originally attached. Relumed by IWW
36
36
1
2
RAF
Yes
6B / 346
2723 / 48
No
MoD
Yes
Pointed Hour
37
37
1
2
3
RAF
Yes
6B / 346
2740 / 48
No
-
MoD
Yes
Flat hour
USA
38
38
RAF
Yes
6B / 346
2749 / 48
-
MoD
unknown
39
39
1
2
3
RAF
Yes
6B / 346
2759 / 48
No
595398
2/10/49
MoD
Yes
Flat hour
Japan
Incorrect sweep seconds3
40
40
1
2
3
4
RAF
Yes
6B / 346
2777 / 48
No
594642
1/24/49
MoD
Yes
Pointed Hour
USA
41
41
1
2
3
RAF
Yes
6B / 346
2790 / 48
No
590698
12/4/48
MoD
Yes
Flat hour
USA
42
42
1
2
3
4
RAF
Yes
6B / 346
2808 / 48
No
591390
12/16/48
MoD
Yes
Flat hour
USA
43
43
1
2
3
4
5
RAF
Yes
6B / 346
2844 / 48
No
591412
12/16/48
MoD
Yes
Pointed Hour
44
44
1
2
3
4
RAF
Yes
6B / 346
2850 / 48
No
White 12
No
Pointed Hour
Malaysia
45
45
1
2
3
4
5
6
7
RAF
Yes
6B / 346
2863 / 48
No
591303
12/16/48
MoD
Yes
Cathedral
Incorrect sweep seconds
46
46
1
2
3
4
RAF
Yes
6B / 346
2868 / 48
Yes
598501
2/10/49
MoD
Yes
Flat hour
Italy
47
47
1
2
3
4
RAF
Yes
6B / 346
2909 / 48
No
591201
12/16/48
MoD
Yes
Cathedral
48
48
1
RAF
Yes
6B / 346
2936 / 48

No

-
Redial
Flat Hour
49
49
1
2
3
4
RAF
Yes
6B / 346
2955 / 48
No
591391
12/16/48
Flat 3
Pointed Hour
USA
50
50
1
2
4
5
6
7
RAF
Yes
6B / 346
3002 / 48
No
590811?
12/4/48
NOS Flat 3
Yes
Flat hour
USA
Restored by Le Sentier in 2002 using NOS parts with stunning satin finish
51
51
1
2
3
4
5
RAF
Yes
6B / 346
3020 / 48
No
591430
12/16/48
MoD
Yes
Flat hour
52
52
RAF
6B / 346
3025 / 48
53
53
1
2
3
4
RAF
Yes
6B / 346
3102 / 48
No
591044
12/16/48
MoD
Yes
Cathedral
54
54
1
2
RAF
Yes
6B / 346
3114 / 48
No
591037
12/16/48
White 12
No
Pointed Hour
Germany
55
55
1
2
RAF
Yes
6B / 346
3141 / 48
No
594762
1/24/49
White 12
No
Pointed Hour
56
56
1
2
3
4
5
6
RAF
No
6B / 346
3162 / 48
No
591124
12/16/48
MoD
Yes
Pointed Hour
flat RAAF crystal
57
57
1
2
3
RAF
Yes
6B / 346
3176 / 48
No
590493
12/4/48
MoD
Yes
Flat hour
UK
58
58
1
2
3
4
5
RAF
Yes
6B / 346
3194 / 48
No
594642
1/24/49
MoD
Yes
Pointed Hour
Japan
59
59
1
2
3
4
5
RAF
Yes
6B / 346
3206 / 48

Yes

594921
1/24/49
Flat 3
No
Pointed Hour
60
60
1
2
4
5
6
7
RAF
Yes
6B / 346
3287 / 48
No
MoD
Yes
Flat hour
61
61
1
RAF
Yes
6B / 346
3316 / 48

Yes

-
MoD
Yes
Incorrect
62
62
1
2
3
4
RAF
Yes
6B / 346
3352 / 48

No

595020
2/10/49
MoD
Yes
Pointed Hour
USA
63
63
1
2
3
4
RAF
Yes
6B / 346
3362 / 48
Yes
595437
2/10/49
MoD
Yes
Pointed Hour
USA
64
64
1
2
3
RAF
Yes
6B / 346
3411 / 48
No
598531
2/10/49
Flat 3
No
Incorrect
UK
65
65
1
2
3
RAF
Yes
6B / 346
3432 / 48
Yes
-
MoD
Yes
Pointed Hour
66
66
1
2
3
4
RAF
Yes
6B / 346
3444 / 48
No
595440
2/10/49
MoD
Yes
Pointed Hour
UK
67
67
1
2
3
4
RAF
Yes
6B / 346
3451 / 48
No
591018
12/16/48
MoD
Yes
Cathedral
68
68
RAF
Yes
6B / 346
3467 / 48
-
unknown
69
69
1
2
3
4
5
6
7
RAF
Yes
6B / 346
3483 / 48
No
594818
1/24/49
MoD
Yes
Flat hour
70
70
1
2
RAF
Yes
6B / 346
3485 / 48
No
MoD
Yes
Pointed Hour
71
71
1
2
4
5
6
7
RAF
Yes
6B / 346
3500 / 48
No
591135
12/16/48
MoD
Yes
Flat hour
UK
72
72
1
2
3
4
RAF
Yes
6B / 346
3510 / 48
No
590974
12/16/48
White 12
No
Flat Hour
USA
73
73
1
2
3
4
5
RAF
Yes
6B / 346
3514 / 48
Yes
594900
1/24/49
MoD
Yes
Flat hour
USA
73
74
1
2
3
4
5
6
RAF
Yes
6B / 346
3530 / 48
No
595437
2/10/49
White 12
No
Pointed Hour
UK
75
75
RAF
Yes
6B / 346
3533 / 48
-
MoD
Square
76
76
1
2
3
4
5
6
7
RAF
Yes
6B / 346
3568 / 48
No
591145
12/16/48
MoD
Yes
Flat hour
UK
77
77
RAF
Yes
6B / 346
3604 / 48
UK
78
78
1
2
RAF
Yes
6B / 346
3615 / 48
Yes
594548
2/10/49
White 12
No
Pointed Hour
UK
79
79
1
2
3
4
RAF
Yes
6B / 346
3647 / 48
No
595147
2/10/49
MoD
Yes
Flat hour
Israel
80
80
1
2
3
4
RAF
Yes
6B / 346
3652 / 48
Yes
81
81
1
2
3
4
5
RAF
Yes
6B / 346
3696 / 48
Yes
590543
12/4/48
Flat 3
No
Pointed Hour
Japan
82
82
1
2
3
RAF
Yes
6B / 346
3757 / 48
Yes
595148?
2/10/49
White 12
No
Cathedral
83
83
1
2
3
RAF
Yes
6B / 346
3781 / 48

No

MoD
Yes
Pointed Hour
UK
84
84
1
2
3
4
RAF
Yes
6B / 346
3806 / 48

No

-
MoD
Yes
Pointed Hour
USA
85
85
1
2
3
RAF
Yes
6B / 346
3831 / 48
Yes
594944
1/24/49
MoD
Yes
Flat hour
USA
86
86
1
2
3
4
RAF
Yes
6B / 346
3855 / 48
No
590682
12/4/48
Flat 3
No
Pointed Hour
87
87
1
2
3
4
5
RAF
6B / 346
3920 / 48
64070X?
9/17/49
Flat 3
No
Pointed Hour
88
88
1
2
3
4
5
RAF
Yes
6B / 346
3936 / 48
Yes
594541
1/24/49
MoD
Yes
Flat hour
89
89
1
2
3
4
5
6
7
8
RAF
Yes
6B / 346
3942 / 48
No
595072
2/10/49
MoD
Yes
Flat hour
90
90
RAF
Yes
6B / 346
3951 / 48
-
MoD
Pointed Hour
91
91
1
2
3
4
5
RAF
Yes
6B / 346
3953 / 48

No

White 12
No
Pointed Hour
92
92
1
2
3
4
5
6
7
8
RAF

Yes

6B / 346
3859 / 48

No

590741
12/4/48
Flat 3
No
Pointed Hour
UK
93
93
1
2
3
RAF
Yes
6B / 346
3893 / 48
MoD
Yes
Incorrect
94
94
RAF
Yes
6B / 346
3995 / 48
595094?
2/10/49
MoD
Arrow
95
95
1
2
3
4
5
6
RAF
Yes
6B / 346
4031 / 48
No
591043
12/16/48
Flat 3
No
Pointed Hour
96
96
RAF
Yes
6B / 346
4036 / 48
Yes
UK
97
97
1
2
3
4
RAF
Yes
6B / 346
4046 / 48
No
590949
12/4/48
White 12
No
Pointed Hour
98
98
1
2
3
4
5
RAF
Yes
6B / 346
4053 / 48
Yes
595157
2/10/49
MoD
Yes
Cathedral
99
99
1
2
RAF
Yes
6B / 346
4057 / 48
No
-
UK
100
100
RAF
Yes
6B / 346
4064 / 48
-
White 12
Flat hour
101
101
1
2
3
4
RAF
Yes
6B / 346
4090 / 48
No
598498
2/10/49
MoD
Yes
Cathedral
102
102
RAF
Yes
6B / 346
4095 / 48
590645?
12/4/48
MoD
Cathedral
1
101
1
2
3
4
5
RAAF
No
G.6B / 346
174
No
912459
2/11/53
Flat 3
No
Flat hour
USA
2
102
1
2
3
4
5
6
RAAF
No
G.6B / 346
230
No
913007
2/11/53
Flat 3
No
Flat hour
3
103
1
2
3